一个引人回顾的多社交场景空间 海牙Foodhallen
设计 \ Design:Studio Modijefsky
图片 \ Photo:Maarten Willemstein
Foodhallen的粉丝们一定会对今秋在Den Haag开业的最新店面感到兴奋。在阿姆斯特丹和鹿特丹打造了两个非常受欢迎的美食广场之后,Foodhallen的最新门店位于Haagsche Bluf,一个建筑风格迥异的豪华商业区。全新的店面由Studio Modijefsky设计,一个充满活力的空间,可以充分享受当地的风土人情与美食佳肴。
Fans of the carefully curated Foodhallen venues will be no doubt excited about the latest location opening its doors this autumn in Den Haag. After two intensely popular food courts in Amsterdam and Rotterdam, the most recent venue is located within Haagsche Bluf - a hidden away area of luxury shops and contrasting architectural styles. With an interior designed by Studio Modijefsky, the brand-new hall is a vibrant space to enjoy local people and flavours.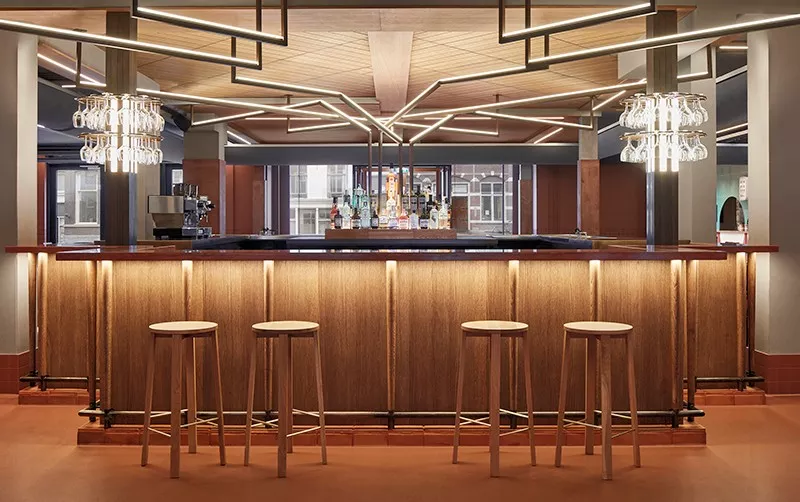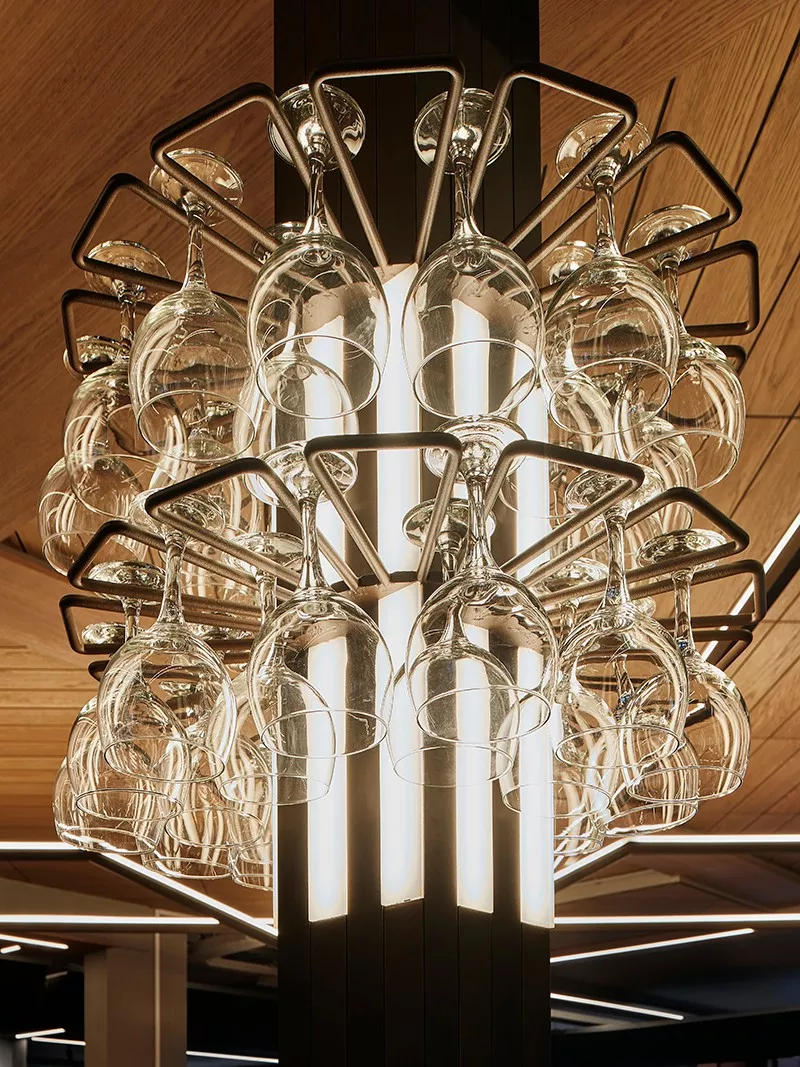 美食广场环绕Haagsche Bluf的内部庭院,分布在三座相邻的建筑物中,连接了多个楼层和不规则的结构网格。新的设计简化了原本由现有的柱子、梁和楼梯组成的混乱的"森林",将黑暗和低矮的内部变成了受欧洲最大的广场传统启发的开放式公共空间。Studio Modijefsky基于此概念选择了七个可以在所有典型城市广场中找到的独特元素:地标,醒目的铺路,喷泉,楼梯,商人摊位,游乐场和雕像。每一件物品都已被翻译成当代建筑元素,形成了一种新的设计语言,将构成场所的空间联系在一起。
Wrapped around an internal courtyard of the Haagsche Bluf, the food court spreads across three adjoining buildings, connecting multiple floor levels and irregular structural grids. The new design simplifies the original chaotic 'forest' formed of existing columns, beams and staircases, turning the dark and low interior into an open public space heavily inspired by the tradition of the greatest European piazzas. For the basis of the concept Studio Modijefsky chose seven unique elements which can be found in all the typical urban squares: landmarks, striking paving, fountains, stairs, merchant stalls, playgrounds and statues. Each of those objects has been translated into a contemporary architectural component, forming a new design language which links together the spaces forming the venue.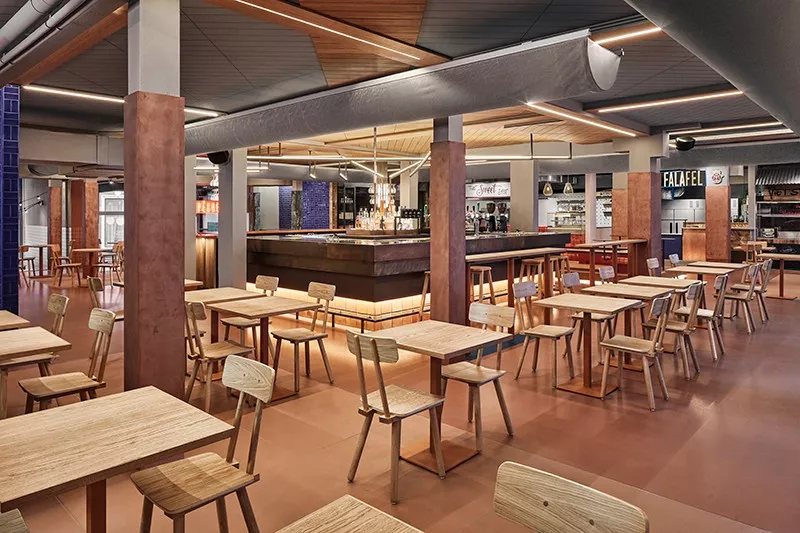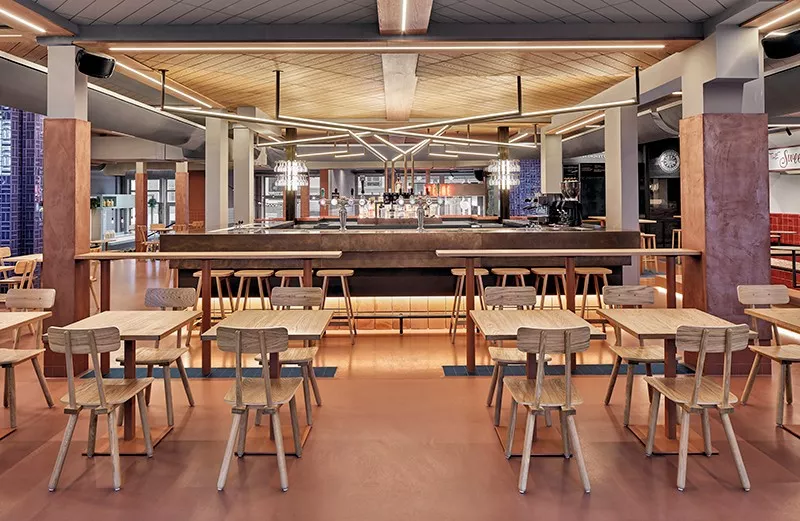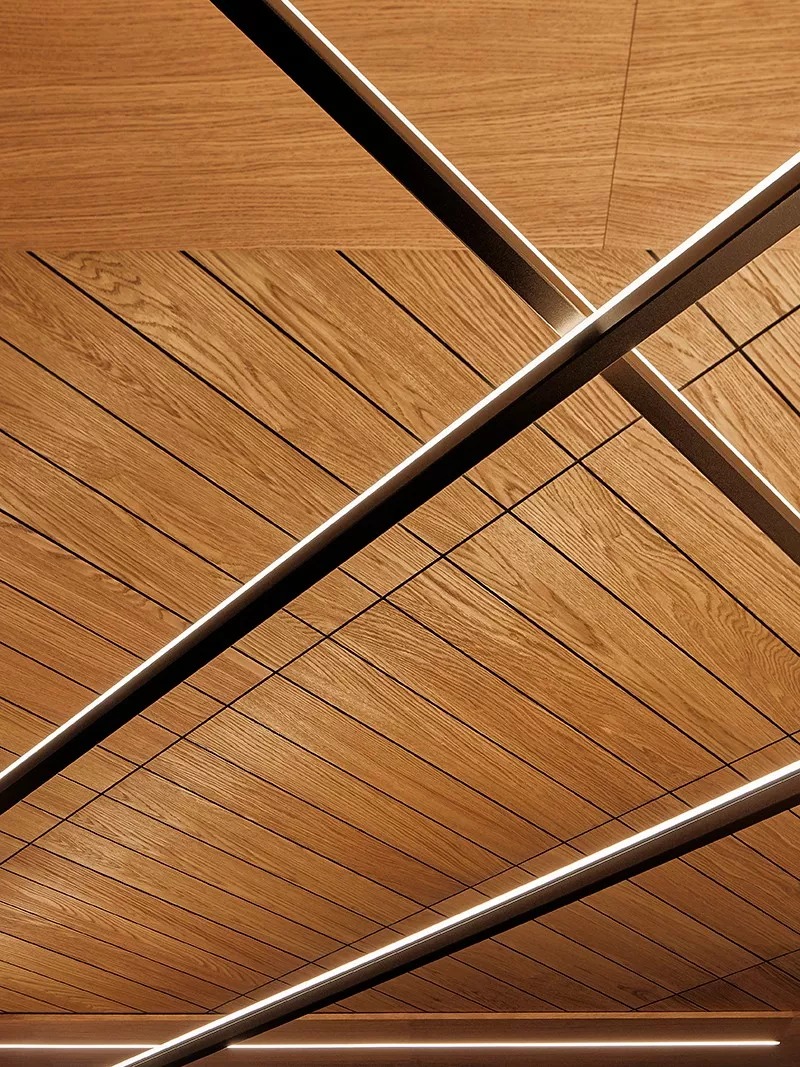 城市景观中最突出、最具标志性的部分——地标性建筑——是一个位于中心位置的酒吧,分为两部分。大的主酒吧面对入口,它的对面则是一个更紧凑、亲密的鸡尾酒吧。两个空间的主要材料都是青铜、红色大理石和陶土瓷砖,与地板和柱基无缝融合。瓷砖有不同的尺寸和颜色,与浇筑的地板混合,参考城市广场使用的铺设模式,在空间上区分或连接不同的层次。各种不同的楼层高度被充分利用,其中大型瓷砖长椅从地面抬起,形成了定制的固定座位安排。
The most prominent, iconic part of the urban landscape – the landmark - is represented by a centrally positioned bar, divided into two parts. The large main bar faces the entrances, while the opposite side forms a more intimate cocktail bar. Both volumes are finished with bronze, red marble and terracotta tiles, seamlessly merging with the floor and plinths of columns. The tiles come in various sizes and colours, mixed with poured flooring, referencing paving patterns used in urban squares, differentiating or connecting different levels in space. Various floor heights have been used to their advantage, with large tiled benches raising from the ground, forming custom fixed seating arrangements.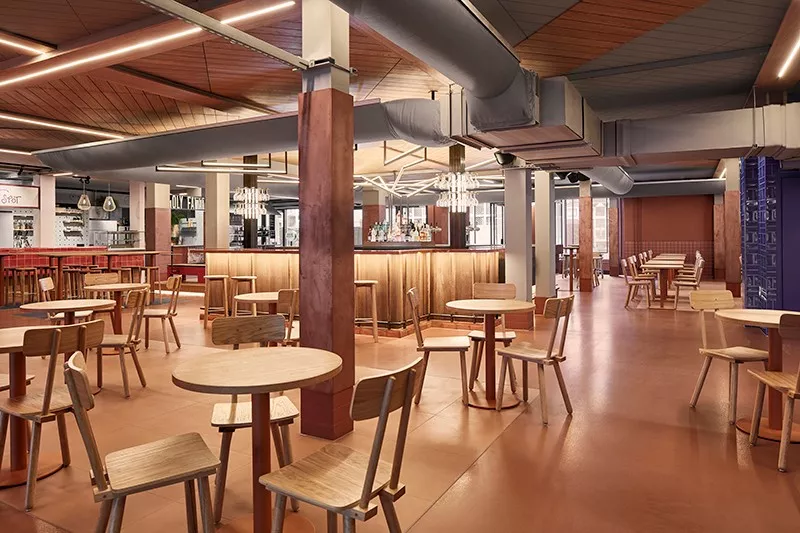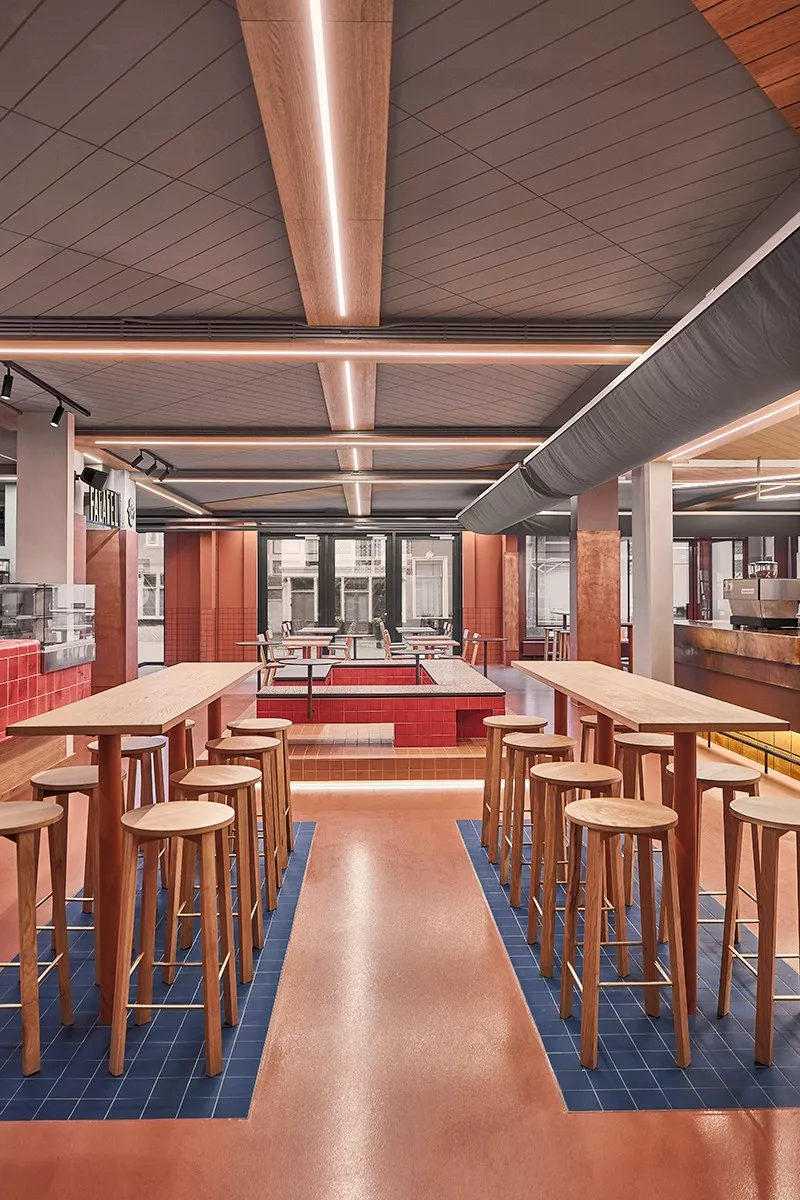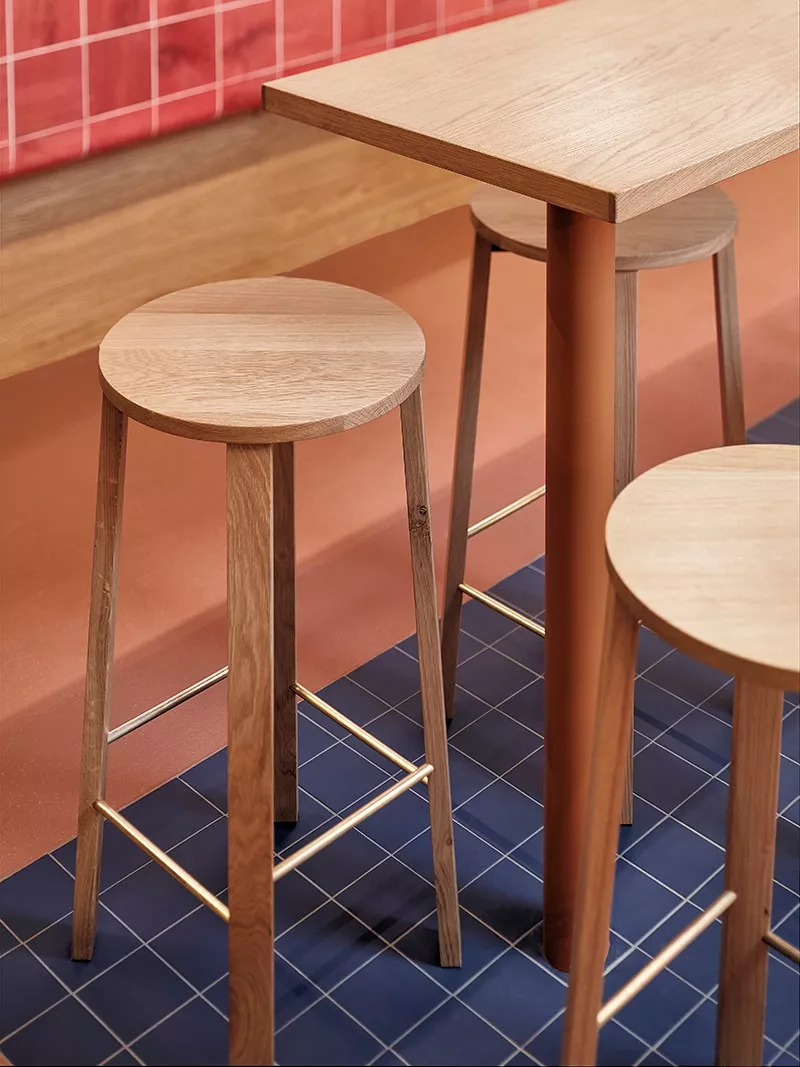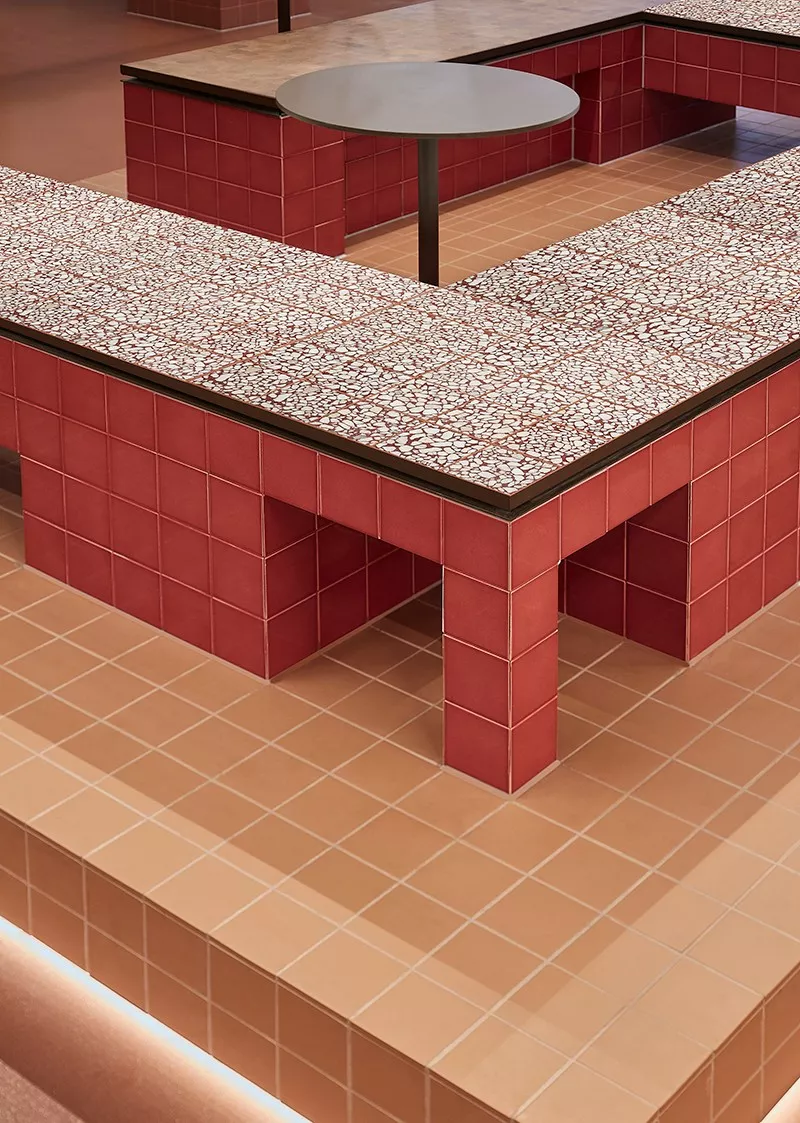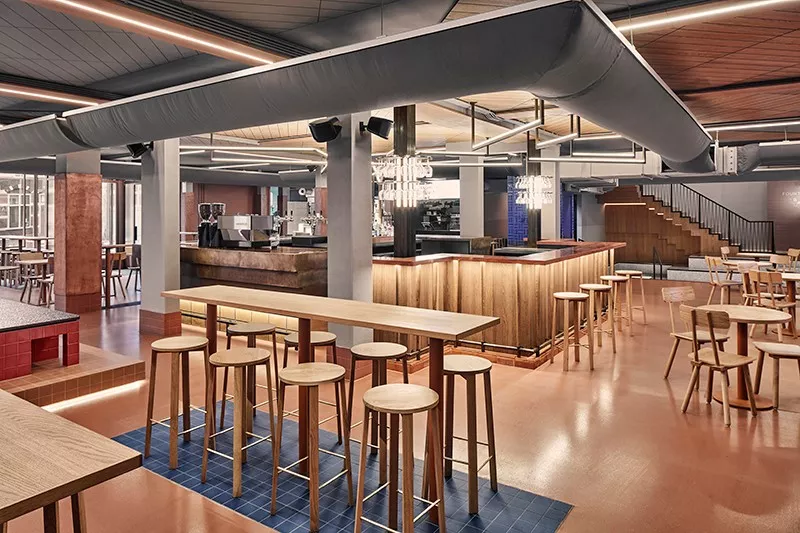 重塑为人们聚集的社交场所的另一个结构元素是大楼梯。以前实用的楼梯被大尺寸的定制结构所取代,这是可以用作临时座位和桌子的理想汇合点。由水磨石和马赛克瓷砖制成的木材制成,在场地内的各个角度都可以看到,邀请人们探索楼上的酒吧。整个空间的每个角落都经过深思熟虑,成为了一个最佳的聚会场所,为大型团体和更多私人聚会提供了无限的机会。即使是整个室内最小的房间也变成了模仿滑板半管的操场,可以兼作舞池。
Another structural element reinvented as a social place for people to gather on is a large staircase. Previous strictly practical stairs were replaced by a large bespoke structure – a perfect meeting point which can be used as makeshift seats and tables. Made of wood with terrazzo and mosaic tiles and visible from various points within the venue, it also invites people to explore the upstairs bar. Throughout the space each corner has been thoughtfully considered and turned into the best possible party spot, offering endless opportunities for both large groups and more private gatherings. Even the smallest room of the whole interior has been turned into a playground mimicking skateboarding half-pipe – a space which can double as a dancefloor.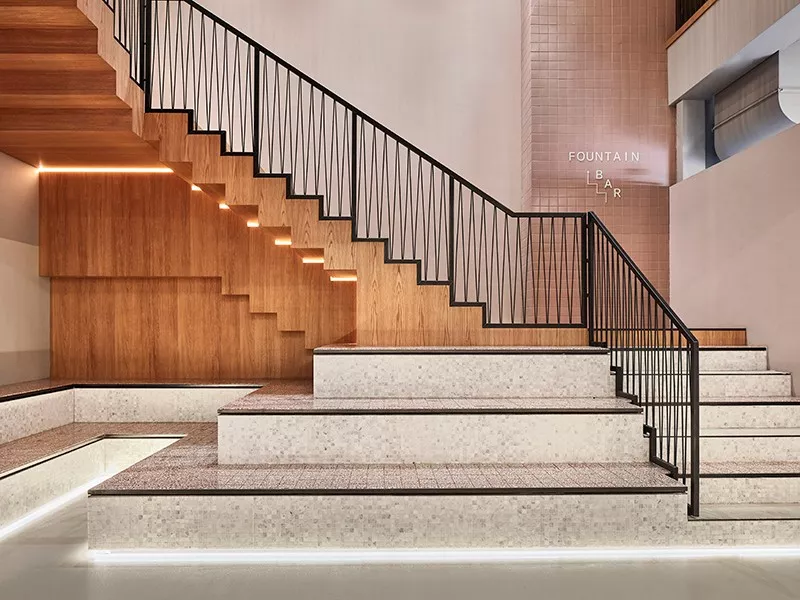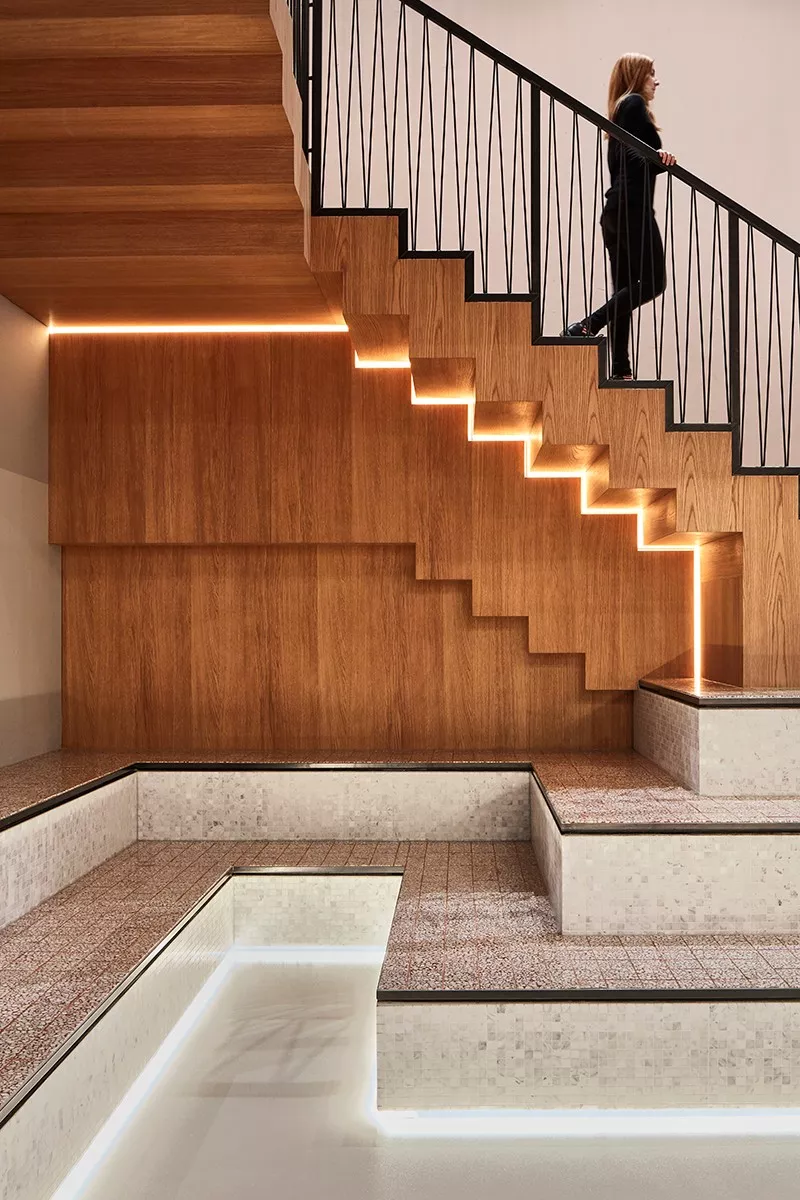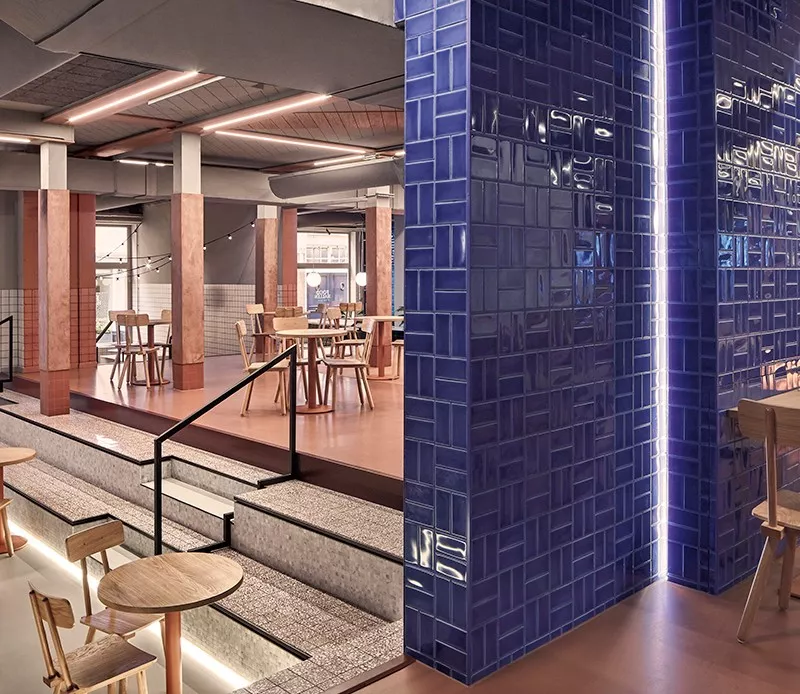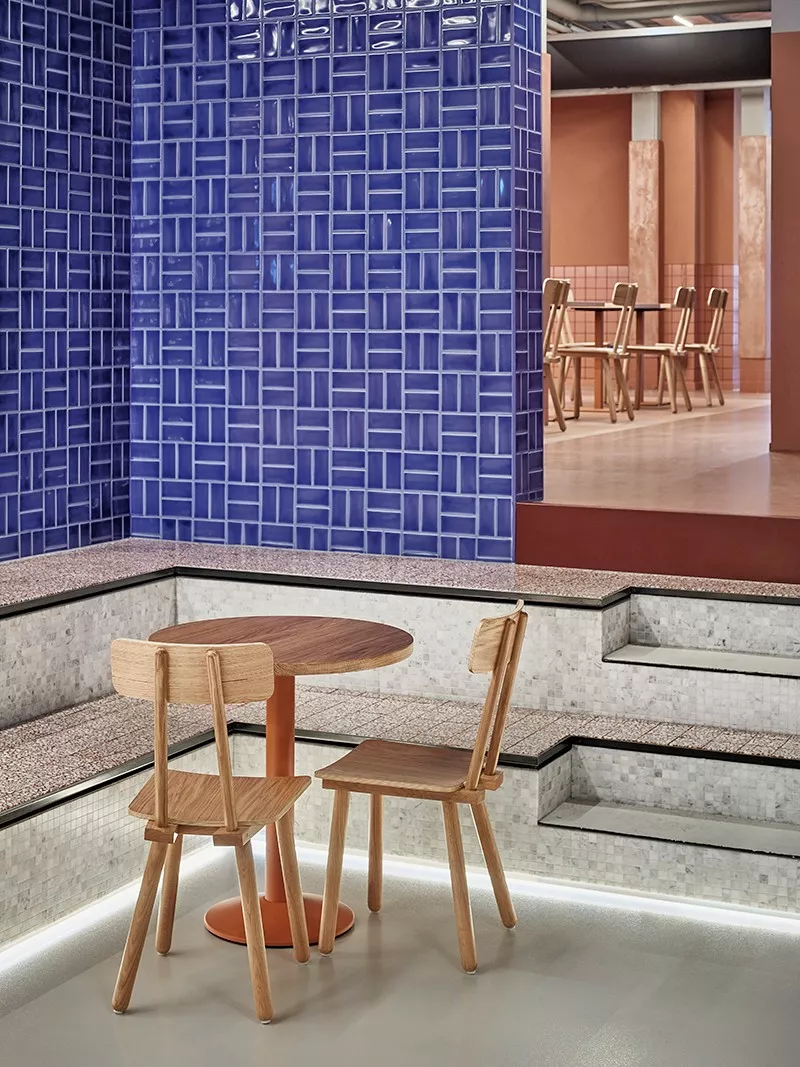 雕像是历史的象征,用结构柱来代表。它们的形状和装饰取决于它们在空间中的位置。酒吧周围的柱子是最具雕塑感的,用青铜饰面材料完成。选用深蓝色瓷砖覆盖的支撑墙,结合集成的轻元素,植物和氧化铜,是喷泉的抽象代表,为室内增添了色彩。其余的柱子覆盖着黄铜,这是另一种取自地中海广场传统的材料。
Statues, as symbols of the historical past, are represented by structural columns. Their shapes and finishes differ depending on their position within the space. Columns surrounding the bar are the most sculptural, finished with bronze facing material. Chosen supporting walls clad in dark blue tiles, combined with integrated light elements, plants and oxidised copper are an abstract representation of fountains, bringing colour into the interior. Remaining columns are clad in brass, yet another material taken from the tradition of the Mediterranean piazzas.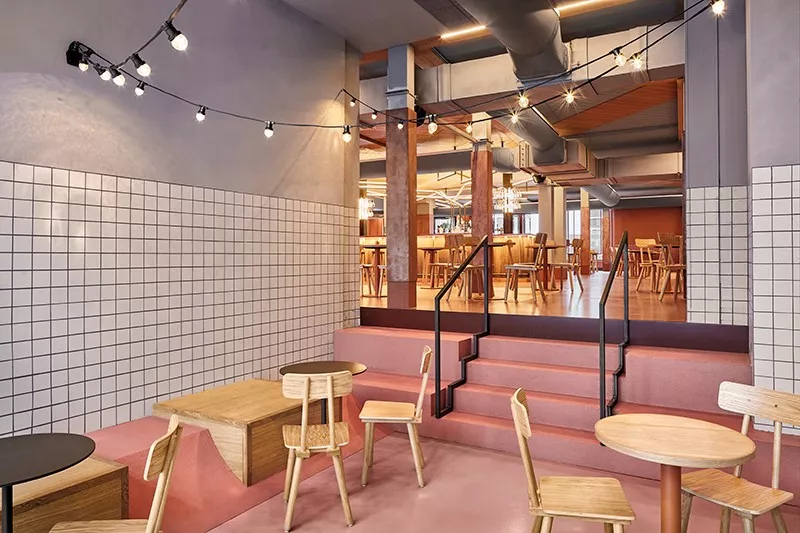 室内的最后一个象征性元素:小吃摊,代表传统的商人摊位,位于建筑的底层。12个摊位位于开放空间的边缘,有三种不同的大小和独特的图形标识,由供应商自己选择。这给为摊位所有者制定清晰的设计准则带来了巨大的挑战,这些规则不会限制每个品牌的创造力,但同时会带来一个完整的内部空间。整个空间必须是海牙街头美食场景的空白画布,同时保留一个充满独特个性的标志性美食场所。
The final symbolic element of the interior: the food stalls, representing traditional merchant's stalls, are located on the ground floor of the building. Placed on the outskirts of the open space, 12 stalls come in three different sizes and unique graphic identities, chosen by the vendors themselves. This posed a significant challenge of creating clear design guidelines for the stalls' owners - rules which would not restrain the creativity of each brand, but at the same time result in a wholesome interior in its own right. The overall space must be a blank canvas for The Hague's street food scene, while remaining a signature Foodhallen venue full of unique character.
空间的当代特色,例如醒目的黄铜枝形吊灯散布在酒吧上方,以及清晰明了的LED灯位于横梁下方,为室内增添了动感的图形效果。它们的鲜明节奏被方形结构梁中断,强调了条形物在空间中的中心位置。
Contemporary features such as striking brass chandelier spreading above the bar and clear lines of the LED lights placed on the undersides of the beams add a dynamic graphic layer to the interior. Their stark rhythm, interrupted by a square layer of structural beams, emphasizes central position of the bar within the space.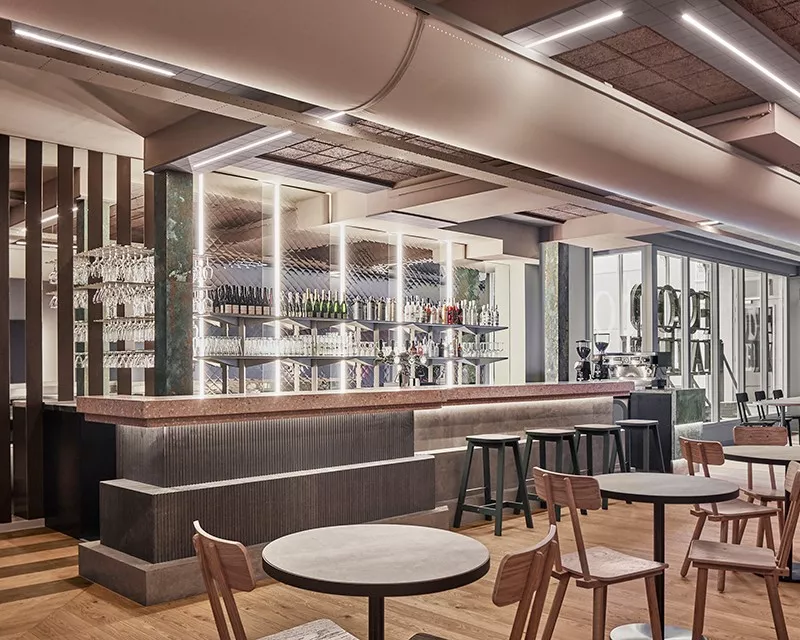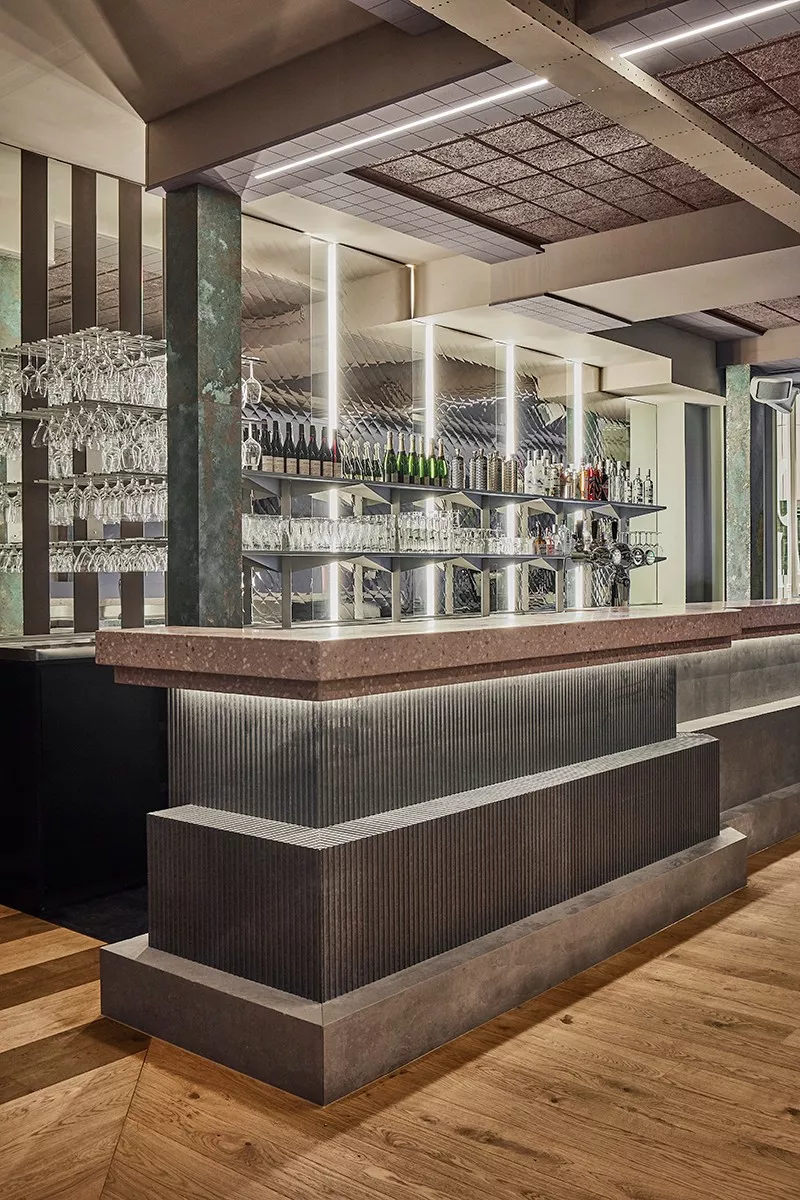 柔软的木质家具和绿色植物缓解了坚硬的材料和线条。与熙熙攘攘的底层相比,Foodhallen的上层有一种更明亮、更有条理的感觉。这里的地标是一个大胆的喷泉酒吧,由石灰华石头、绿松石氧化铜和浅色水磨石制成。强烈的垂直线条使空间在视觉上更高,而镜子和光的组合则模仿了流向后杠的水。楼上空间的地板是由形成几何图案的木板制成,再一次融入了高架的定制座椅元素。现有的结构元素(例如墙墩)通过成为由各种灯光,面板和饰面制成的抽象墙组成的一部分而得到突出显示和庆祝。
Hard materials and lines are alleviated by a warmer layer of loose wooden furniture and green plants. In comparison with the bustling ground floor, the upper level of Foodhallen has a slightly brighter and more organised feel. Here the landmark is a bold fountain bar made of travertine stone, turquoise oxidised copper and light-coloured terrazzo top. Strong vertical lines make the space optically taller, while the combination of mirrors and light imitates water running down the back bar. The floor of the upstairs space is made of wooden planks forming a geometrical pattern, once again merging into elevated custom seating elements. Existing structural elements such as wall piers are highlighted and celebrated by becoming a part of an abstract wall composition made of diverse lights, panels and finishes.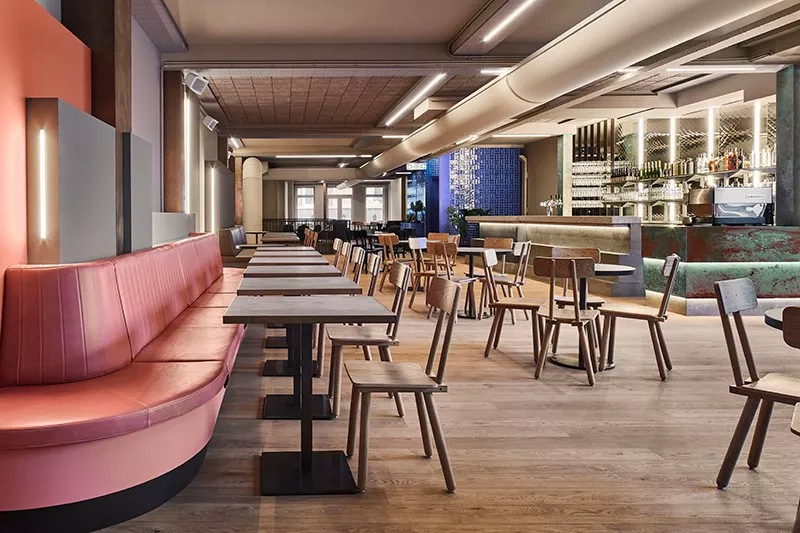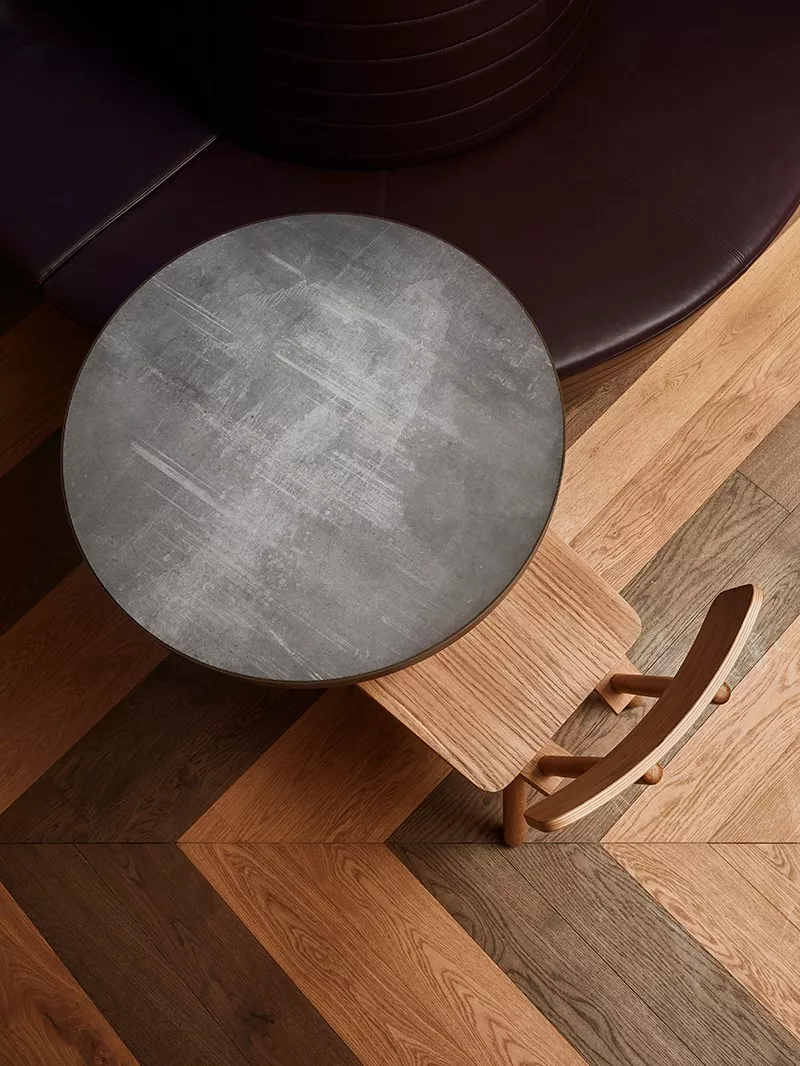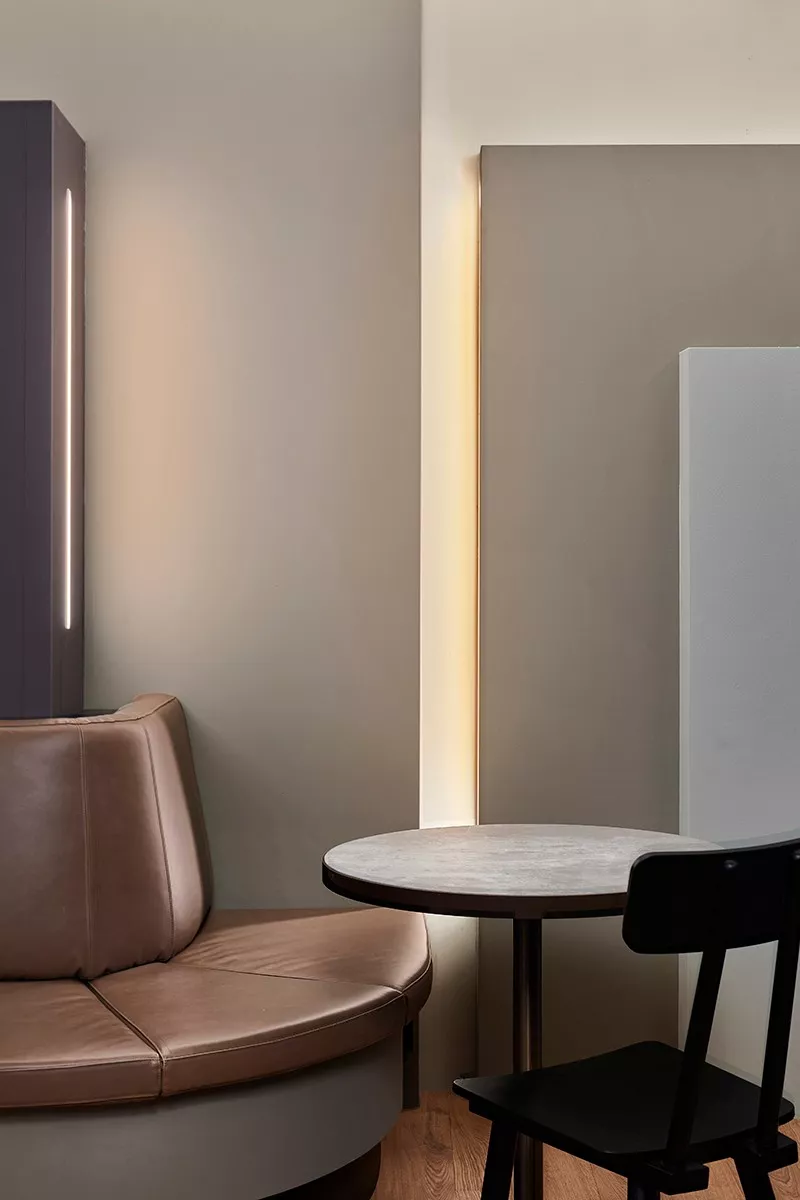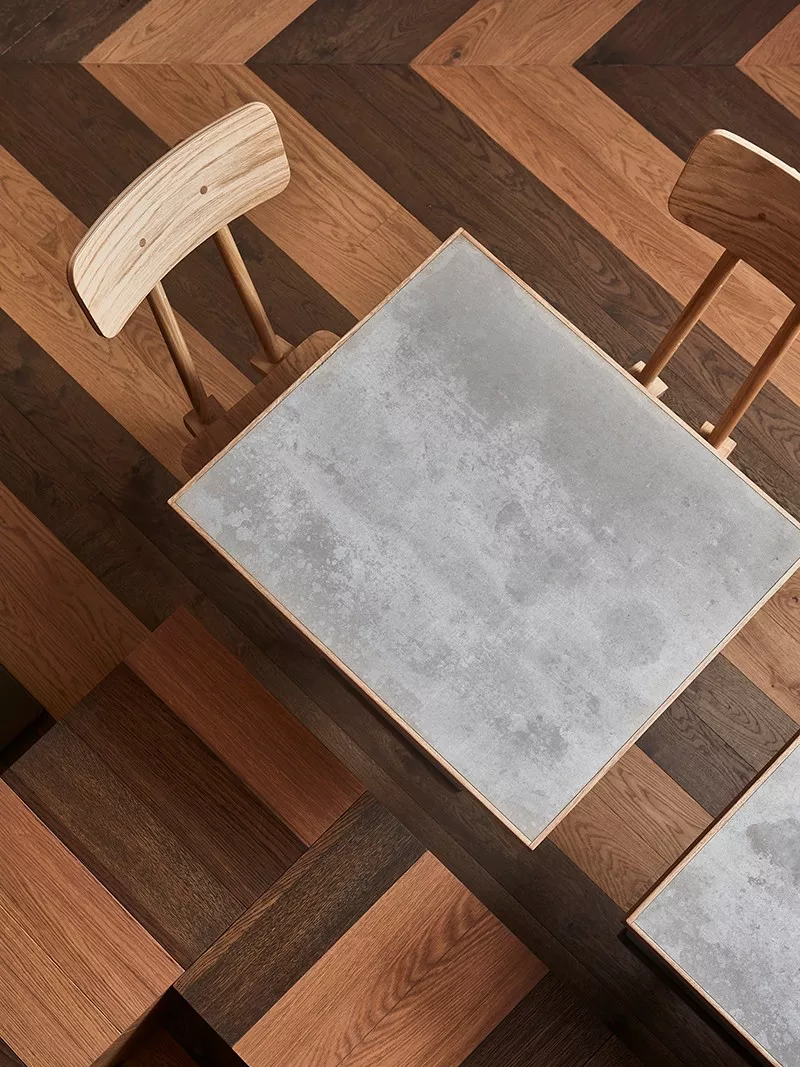 Studio Modijefsky通过使用图形线条,清晰的材料色板和概念性符号,创造出了完美的现代室内广场。一个多用途且引人入胜的城市景观,充满了古怪的特点,适合任何社交场景。虽然Foodhallen的经营理念是主打美食和风味,但它是充满生机,错综复杂的全新内饰,也足以吸引人不停回归。
By using graphic lines, clear material palette and conceptual symbols, Studio Modijefsky has created the perfect modern indoor plazza. A versatile and inviting urban landscape filled with quirky features, perfect for any occasion. While Foodhallen concept prides itself on celebrating cuisines and flavours, it's the new vibrant, intricate interior which will keep you returning.
平面图 Plan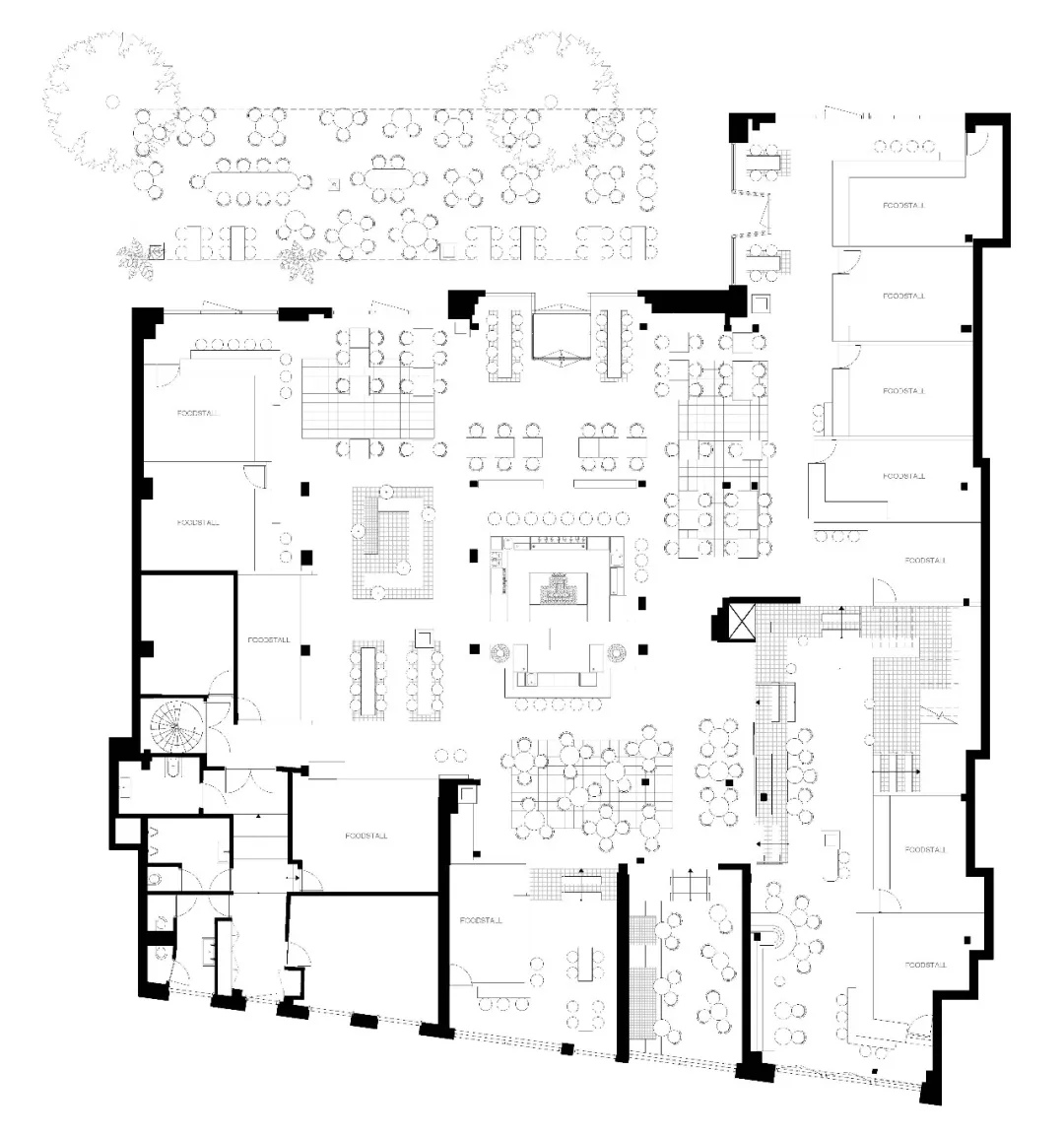 项目信息
项目名称:Foodhallen Den Haag
项目地点:荷兰海牙
空间用途:美食广场、酒吧和活动空间
营业时间:2019年10月
项目面积:1256㎡ 一层:825㎡ 二层:288㎡ 露台:143㎡
项目客户:Foodhallen
空间设计:Studio Modijefsky
设计团队:Esther Stam,Natalia Nikolopoulou,Zahra Rajaei,Nancy Katri,Christel Willers,Maite Margalho
空间摄影:马丁·威廉斯坦(Maarten Willemstein)
Project Information
Project: Foodhallen Den Haag
Location: The Hague, The Netherlands
Program: food court, bar & event space
Assignment: interior design
Status: realised October 2019
Size: 1256㎡ ground floor: 825㎡ first floor: 288㎡ terrace: 143㎡
Client: Foodhallen
Design: Studio Modijefsky; Esther Stam, Natalia Nikolopoulou, Zahra Rajaei, Nancy Katri, Christel Willers, Maite Margalho
Photography: Maarten Willemstein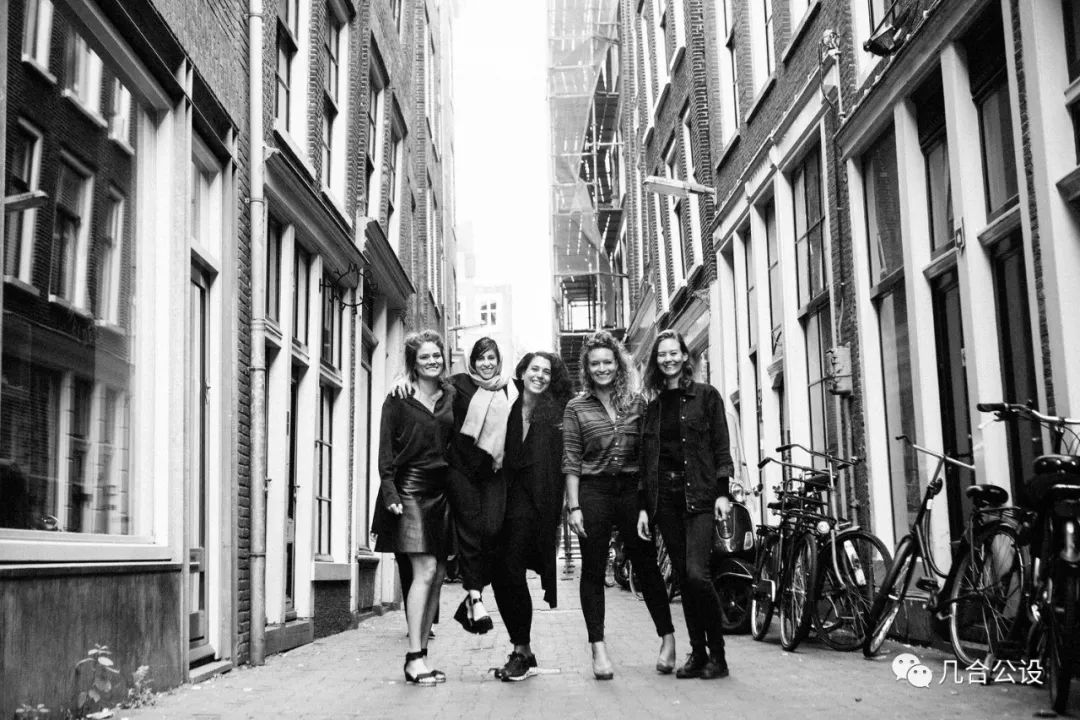 Studio Modijefsky
Studio Modijefsky是一家由Esther Stam于2009年创立的室内建筑工作室。其位于阿姆斯特丹市中心的住所拥有一支国际建筑师和室内设计师团队,他们为从酒店到精品店,酒吧再到酒吧的客户提供全方位的空间干预创意服务。水疗中心。目前,构成工作室的9位女士精心设计了游客在逗留期间(无论是5秒钟还是5个小时)所看到,通过和触摸的所有事物。
Studio Modijefsky is an interior architecture studio founded by Esther Stam in 2009. Its home in the centre of Amsterdam hosts an international team of architects and interior designers who provide a total creative service for spatial interventions for clients that range from hotels to boutiques and bars to spas. The nine women that currently form the studio carefully design everything that is seen, passed and touched by a visitor for the duration of their stay whether it's five seconds or five hours.
每个Modijefsky的项目都是独一无二的,每个设计都经过严格的创作过程。不仅是建筑物,还包括当地环境,经过仔细研究和分析,以揭示该地点的故事。在确定如何将其属性、特征和遗产转化为相关的,吸引人的空间设计和体验时,对新空间的品牌或居住者给予同等的关注。
Every Modijefsky project is unique thanks to a rigorous creative process that's rooted in each location. The site – not just the building but also the local environment - is carefully researched and analysed to reveal and embellish the location's story. An equal amount of attention is given to the brand or inhabitant of the new space in determining how their attributes, character and heritage can be translated into a relevant, appealing spatial design and experience.
下一步是考虑如何使用该空间。在空间设计中探索和优化高度,宽度,视线,路线,光线和视线,其中一切都与位置和品牌的独特性有关。最后,用一本书将整个创意过程呈现给客户,讲述该位置的历史及其未来的设计。
The next step is to consider how the space could and should be used. Height, width, lines of sight, routing, light and sight are explored and optimized in a spatial design in which everything is related to the location and brand's unique character. Finally, the entire creative process is presented to the client in a book that tells the history of the location and its future design.
Studio Modijefsky的设计,让每一个细节都有充满意义。要达到这样的质量水平,需要庞大的专业团队,不仅是设计师,还包括画家、电工、工匠、照明设备制造商、装配工和承包商,大家不断发挥自己的极限,从而发挥最佳性能。只有长期的联动才能达到这种协作水平,因此Studio Modijefsky会定期访问生产室内装饰的工地和车间,以确保产品的最佳质量。
The worlds Studio Modijefsky creates need to make sense until the very last detail. Achieving this level of quality requires a large team of professionals - not just designers but painters, electricians, craftsmen, light makers, shop fitters, and contractors – pushing their limits to perform at their best. This level of collaboration is only possible with regular contact, so Studio Modijefsky regularly visits building sites and workshops where the interior and its contents are made to ensure optimum quality.
该工作室的终极目标是重塑人们与室内互动的方式。通过将设计与该地点的自然环境或城市环境相关联,并结合纹理和材料,光线和路线,高度和深度,视觉和触感的组合,Studio Modijefsky创造了超越所有期望的空间体验,并创造了宝贵的新记忆。
It's part of the studio's ultimate goal to reinvent the way people interact with an interior. By relating design to the location's context (whether natural or urban) and playing with the composition of texture and materials, light and routing, height and depth, sight and tactility Studio Modijefsky creates spatial experiences that surpass all expectations and create valuable new memories.